Pro AV Catalog
Manufacturers
PRODUCT CATEGORIES
Matching Keywords
Model Numbers
January 2017 Sho-Q2020 allows for seamless presenting of multiple Powerpoint and PDF presentations; start any session at any time with a single touch.
Teachers can freely mix whiteboard, web content and document camera images and can annotate on any image, document or slide. Annotations, whiteboard sheets, annotated web pages, document camera shots and slide annotations are automatically inserted into the presentation and build a new PDF document that is saved at the end of the session for later review and posting.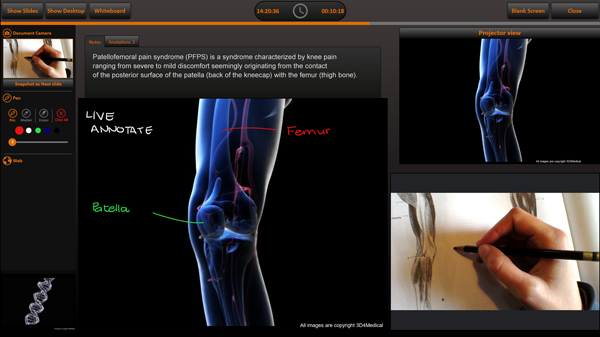 Sho-Q2020 was built especially for ILS lecterns, however it is available to anyone teaching or presenting with the help of modern pen interactive and multi-touch screens, touchPC's, surface tablets and laptops with touch. sho-Q2020 needs minimal preparation time, you can start a full day of events within seconds, and switch between sessions and presentations without ever having to go to a desktop or show your audience this switch.
Other helpful features include:
Auto-launch of the latest presentation from a USB-stick inserted into the PC when sho-Q is active.
Auto-listing of hyperlinks in presentations so that it is easy to jump to a web page location, annotate and insert the webpage(s) in the slide sequence of your presentation.
Jump from within a presentation to another one and return to where you left off.
No intricate system distractions, easy to get your ideas across with confidence and professionally.
Try sho-Q2020 by downloading a trial from www.sho-Q.com.
You can come see sho-Q in action an try it yourself at ISE, ILS can be found at booth 13.D108
You must be logged in to add more than four items to your comparison list.
Register today!
With a free My-iQ account, you'll be able to keep track of the latest updates and event notifications from your favorite AV manufacturers, manage your own projects and discover new pro-AV products.
Thank you!
Someone will be in touch with you shortly.
Supravision AG
Zuerichstrasse 38
Bruettisellen, Zuerich CH-8306
Switzerland
+41 44 878 10 78
www.supravision.ch
Request more information from a dealer near you